the dream was a custom shop version – along the lines of a stephen carpenter, but three strings less, with EMG's in the place of seymours and stock ESP's own. never was worthy of such an item, and despite the possibility of getting it way cheaper back in KL, i finally had my very own ESP.
it's a viper, which comprises a skewed SG-shaped body made of solid mahogany. due to its thin body, it feels light but with the EMG humbuckers, 81 at the bridge and 85 at the neck, this is one heavy mutha.

my cheapo 15-year old solid state fender practice amp never sounded so good. as active pickups go, they are a tad strong. the clean tone on my fender blues deluxe had a minimal overdrive to it! tone-wise, it's pretty much like the KH-2 (which is going to take a trip back to its rightful owner very soon). oh, check out the battery compartment on the back. think car ashtray.
the construction's flawless and with the select hardware this baby has, it is little wonder it has such a price tag. the machine heads are magnum gotoh. no more winding with these. put the string through, tighten the screw head and clip off the excess. the neck is set through, kinda like a partial neck thru / set neck combo. allows brilliant access to the higher registers if you shred. i don't.
the fingerboard is ebony and has pearloid inlays, reminiscent of the ones seen on het's truckster.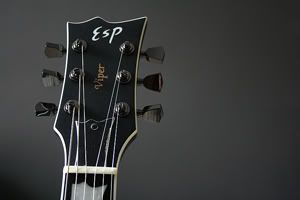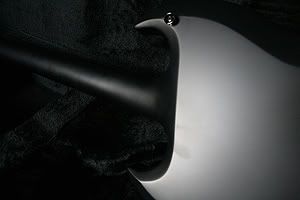 now i can save up to get that v-drum kit.