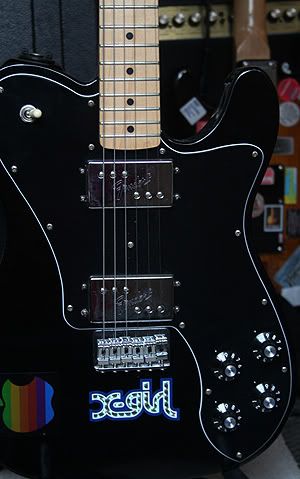 I was first interested in the different versions of the Tele that Fender produced in the early 70′s when The Neon got his black '72 Tele Custom reish a few years back. His had a rosewood fingerboard on its neck and had a single split humbucker at the neck position. The Neon was also the one who rekindled my somewhat one-CD interest in Radiohead in those days.
I thought Thom added a '70s Strat neck on his Tele the first time I saw a photo of him wielding the Tele Deluxe. How wrong i was. With the advent of the current crop of bands like Franz Ferdinand, the '72 Tele Deluxe was 'in'. Fad or not, I wanted one, too. Then someone had it on a buy it now for three hundred smackers on eBay. Oh boy.
This is a Mexican reissue that belongs to the Classic series (I realise I now own three guitars from said series!). The Deluxe had a surprisingly heavy alder body.
Pages: 1 2